I've wanted to try Viktor&Rolf Flowerbomb for some time now. I've heard great things about this perfume since its debut in 2005, but honestly never made it to the perfume counter to try it on my skin.
Recently I was given the opportunity by
FragranceNet.com
to try out Flowerbomb for myself, and I must admit I think I squeaked a little when it arrived in the mail!
However, I was a little worried I wouldn't like it because I tend to hate anything with a floral scent. With its name being Flowerbomb, I was thinking "explosion of flowers"! Usually floral scents are too strong for me and end up giving me a headache. As much as I really wanted to love Flowerbomb, I was afraid I just wouldn't be able to stand wearing it.
Thankfully, I was wrong! While Flowerbomb is described as being floral with its freesia, jasmine, and rose orchid, it's also described as having hints of tea. This is what I think I picked up on the most. I've worn Green Tea by Elizabeth Arden for years and years and I love its light, fresh scent. This might be why I'm attracted to the scent of tea coming from Flowerbomb.
I also noticed sweet notes in the perfume; almost like candy. I've read this in other customer reviews as well. Some describe it as cotton candy, some say vanilla. I think I would have to agree with both. It really is a unique scent!
Viktor&Rolf's
description includes Patchouli, which is an herb belonging to the mint family.
Patchouli is a musty, sweet, spicy, heavy scent. It is relaxing, uplifting, soothing, and is believed to be an aphrodisiac. I'm thinking this just might be why I LOVE this scent! ;)
FragranceNet.com is the only place I trust to buy my fragrances online. They always have great prices and they also carry skincare, haircare, aromatherapy and candles!
To see all that FragranceNet.com has to offer, please click on the image below: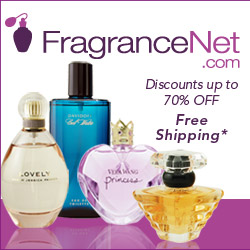 The amazing people at FragranceNet.com also wanted to offer a $50 gift card to one of my lucky readers! YAY! To enter, please use the Rafflecopter widget below and I hope you win!
a Rafflecopter giveaway